Installation for dewatering and composting of sewage sludge with the option of its thermal utilization BIONOR SLUDGE. The system implements processes of separation, dewatering and thickening of sewage sludge resulting from waste water treatment process. It replaces grids, sieves, preliminary clarifiers , sludge belt presses.

BIONOR SLUDGE is a solution for municipal treatment plants with capacity of up to 1,000 m3 / d.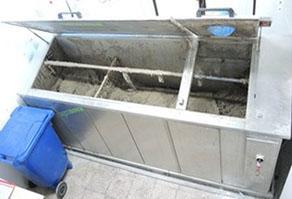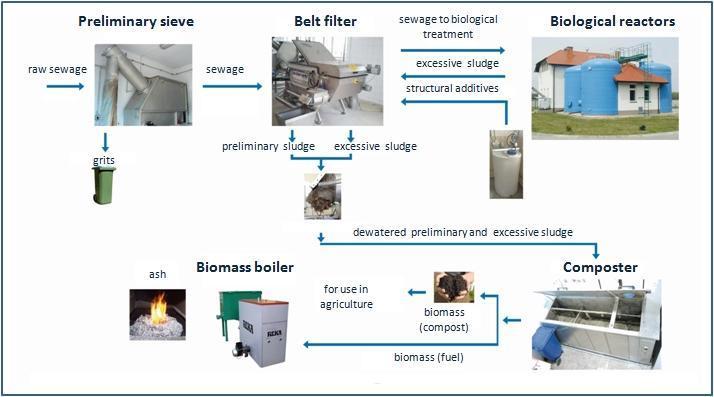 BIONOR SLUDGE consists of the following devices:
Preliminary Sieve – for pre-separation of larger mechanical impurities
Rotary belt filter – for separation, thickening and dewatering of preliminary and excess sludge
Installation for preparing and dispensing of the structure forming solution.
Screw conveyer – to transport dewatered sludge
Composter – for high-temperature composting of sludge
Furnace – to burn biomass
Storage tank of hot water produced by the combustion of biomass.
PROCESS DESCRIPTION
Municipal wastewater by pumping stations, are pumped to the coarse sieve where high fraction of solids is separated. The screenings are fed by a screw conveyor to a container, to be subjected to disinfection process with lime. Wastewater is led to the second degree of mechanical stage – rotary belt filter. The purpose of it is to separate the remaining solid particles and biological material from the wastewater and at the same time excess sludge from a biological wastewater treatment process. In order to improve the efficiency of the separation of excess sludge a structure forming solution is added. Separated on the rotary belt filter sludge is dewatered and compacted on integrated or stand alone screw press. All devices are periodically rinsed with hot water, which ensures the purity and high efficiency of the installation.

Dewatered preliminary and excess sludge are transported by a screw conveyor to a composter, which is three stage thermal reactor. The composting process is intensified by the use of mixing, heating and aeration systems. Composter is equipped with a PLC system that allows control and maintenance of the desired temperature, which ensures the correct process conditions and obtain stable and mature product. Composting time is usually from 5 to 7 days. High temperature (min. 70 ° C) in a composter causes hygienisation the resulting biomass and reducing its moisture content from 70% to 20%. The resulting biomass has a high potential as a fertilizer or source of energy.

The installation is characterized by high efficiency and flexibility of work and a modular architecture. This allows adjustment of the system to the requirements of existing and newly-designed plant. Possible and fully justified is the use of selected elements of installation for modernization of existing facilities.

In addition, the line can be expanded by mounting a biomass combustion furnace equipped with a biomass reservoir and heat exchanger. The thermal energy obtained from the combustion of biomass can be used to heat up the water used for washing systems devices and for other purposes. ( for instance heating plant during winter). The end product of combustion – ash with a high content of phosphorus, can be used for the production of fertilizer.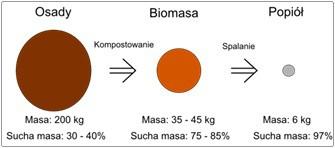 BIONOR SLUDGE installation enables significant reduction of sludge volume and weight.
Installation BIONOR SLUDGE, and its effectiveness has been tested in the following institutes:

BENEFITS RESULTING FROM BIONOR SLUDGE APPLICATION
HYDRATED SEWAGE SLUDGE
problem with the storage and disposal
bad odor
expensive and arduous transport

DEWATERED SLUDGE
bad odor
arduous of transport (especially in winter)
difficult to manage
lang and difficult composting process
expensive disposal process (combustion)

BIONOR SLUDGE
preliminary and excess sludge is subjected to co-stream separation and dewatering on rotary belt filter and it is an input to the composter
replaces stabilization process of excess sludge in wastewater treatment plant.
eliminates the need for sludge thickening on the press

INSTALATION OF BIONOR SLUDGE