Small wastewater treatment plants BIONOR B-5 / B-10
BIONOR B-5 for 4-6 PE
BIONOR B-10 for 5-10 PE
Biological wastewater treatment plants BIONOR B-5 / B-10 consist of the following main parts:
retention tank
bioreactor.
driers for excess sludge dewatering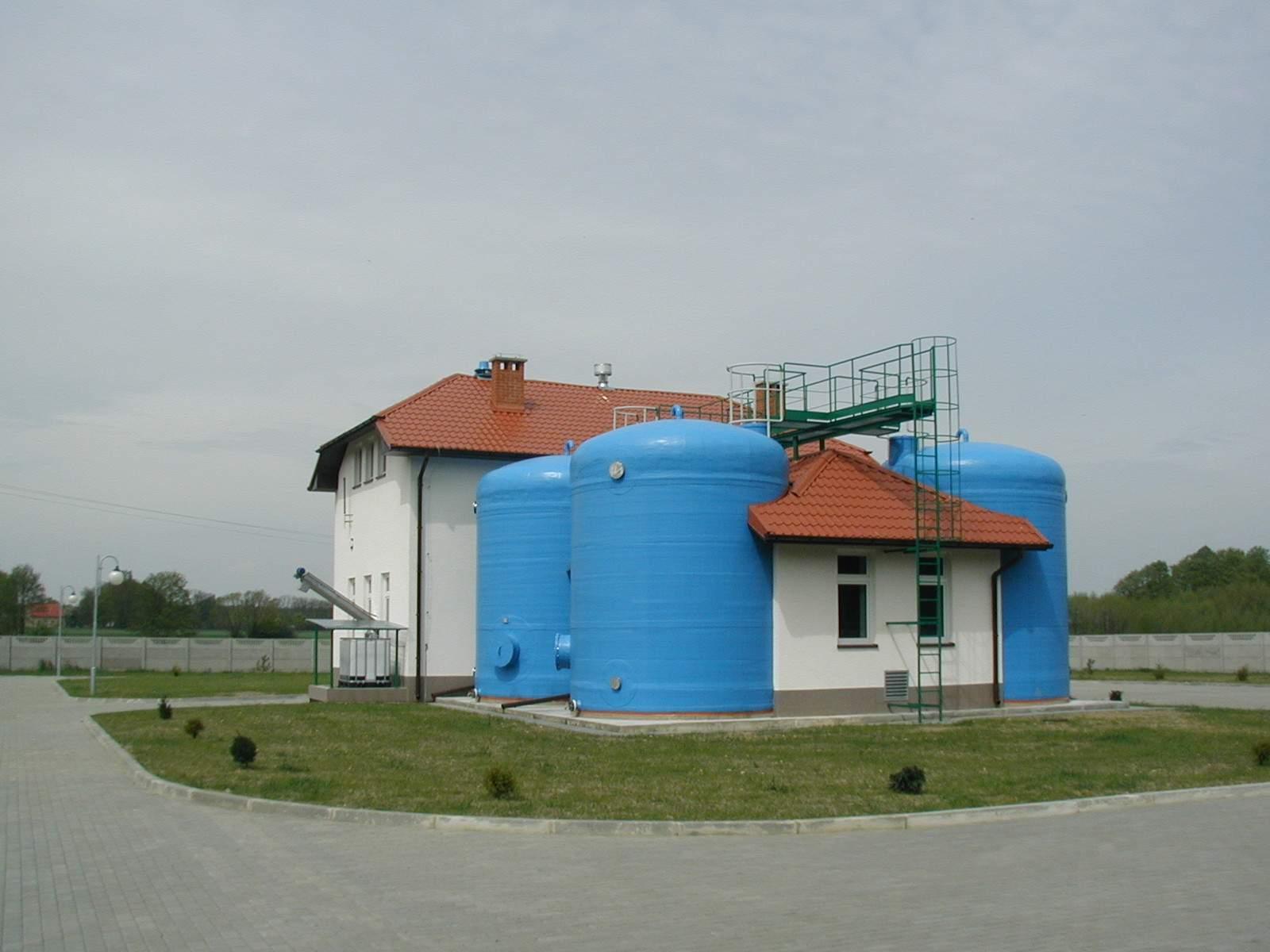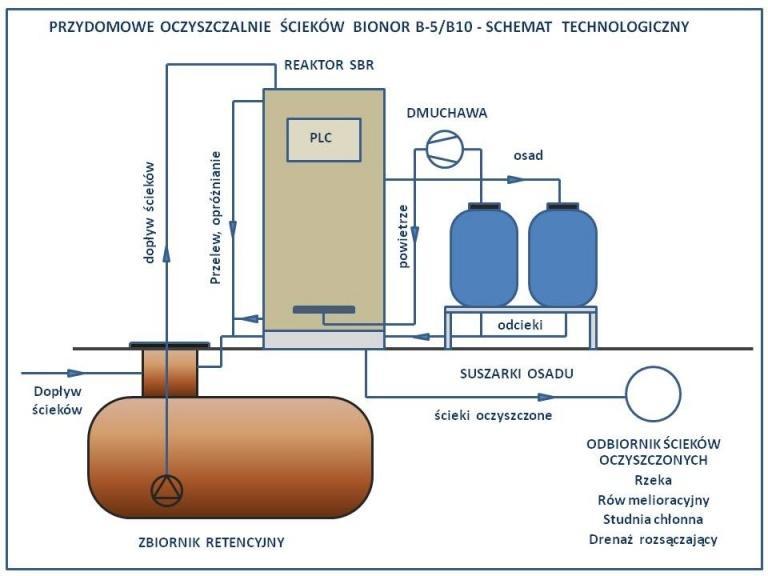 Technology of wastewater treatment includes biological treatment with using of activated sludge in SBR system. SBR treatment process consists of five phases (filling and aeration, reaction, sedimentation, outflow, break). SBR system provides effective removal of organic contaminants.
The retention tank upstream of the biological part provides alignment of daily flow and accumulation of raw sewage..
SBR reactor is filled gradually in several portions. Biological treatment of wastewater occurs during its aeration by the blower and aeration grid.
After treatment process effluent is discharged from the reactor into a receiver (infiltration well, drainage system, river) and the excess sludge is directed to sludge driers.

Underground retention tank is made of PE and its capacity is 1.5 m3. It is equipped with a submersible pump and floating level sensor. Retention tank can also be made of fiberglass reinforced resin or reinforced concrete.

SBR reactor tank is above ground and has capacity of ca 1.4 m3, It is made of polyethylene PE, produced by rotomolding method (casting in the mold). The dimensions of the reactor allow it to be placed in an existing space with the doors dimensions of 80×200 cm .
Reactor equipment:
aeration system – membrane diffuser and a blower,
excess sludge pump
technological pipelines with fittings and accessories,
system of automatic control of the plant.
Biological reactor can be installed in the basement, farm building or in an insulated container. The minimum dimensions of the room to the wastewater are 2×2.7 m. The minimum ceiling height is 2.4 m.

Sludge driers – tanks made of polyethylene having a diameter of 50 cm and a storage volume approx. 80 liters. In sludge dryers excess sludge is dewatered and subjected to a drying process. Excess sludge is fed to the removable filter bags placed in the sludge dryers. Air to the blower comes through filter bag and dries the sludge. This installation enables and enhances the process of filtration and drying sludge. The effluent from the sludge drier is drained by gravity into the retention tank. Drying allows to obtain sludge with approx. 30 ÷ 40%.of dense solids content. Dried sludge can be composted along with biological waste or taken to a municipal landfill for disposal. The annual amount of dried sludge from wastewater designed for a family of five is 0.15 m3.
Control and automation.
Wastewater treatment plant is equipped with a control system based on PLC.
Scope of the automatic control and process control performed by the system minimizes the manual operation.
BIONOR B-5 / B-10 wastewater treatment plants are certified to PN EN 12566-3: 2005 + A2: 2013 confirmed by tests conducted by the notified laboratory.